Press Release:
Exciting New Equipment Additions at IMC –  2017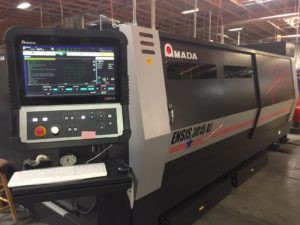 At Integrated Metal Components, we are always looking for new ways to use innovation to improve our processes and quality. In keeping with this value, IMC is proud to announce the acquisition of an Amada LCG AJ Fiber Laser. As one of the first sheet metal manufacturers in the region with this state of the art laser cutting system, IMC will be able to significantly improve our production capacity in a condensed timeframe. This new fiber laser has the capability to cut thin gauge steel up to four times faster than our current CO2 laser system and has decidedly shorter pierce times. Along with notably cutting production time, IMC's ecological footprint will also be reduced, by a significant decrease in electricity consumption, over our current lasers.
In support of the fiber laser, IMC has also invested in a nitrogen generator and AMS Cycle Loader. The nitrogen generator will cut our reliance on outside vendors for assist gas, which will improve overall effectiveness of the fiber laser by reducing costs in production for the swapping of tanks and the changing cost of nitrogen. The cycle loader comes with a 6000 lb capacity to automatically load material directly to the laser, creating a seamless process between the loading of material and high speed cutting.
IMC's continuous quest for providing impeccable production and quality puts us on the cutting edge of manufacturing innovation and we hope that you partner with us for all your sheet metal needs.
IMC Improves Quality and Manufacturing Capacity in their Finishing Department – 2016
The Finishing Department acquired new sanding booths to increase the quality of product to our customers.  As the company continued to grow with it's customers, so has their quality.  The new booths restrict air particles and improves the air flow through the Finishing and Powdercoat areas.
IMC Continues to Grow with Increased Powdercoat Capacity – 2016
Integrated Metal Components, Inc. (IMC) continues to increase it's precision sheet metal and fabrication services to it's customers with the purchase of powdercoat booths.
IMC Purchases a New Amada Punch – 2015
Integrated Metal Components, Inc. (IMC) acquired a new Amada Punch and continued to increase it's precision sheet metal fabrication and engineering capabilities.   The owner of IMC, Glenn Heard, and the management team which includes Ron Norris, worked with customers to find the best way we can increase our services to our customers.  "I am excited about offering better quality, engineering,  and manufacturing capacity to our customers.  IMC now has 4 punch machines with this latest addition." said Heard.
IMC Increases Sheet Metal Fabrication Capabilities  – 2014
Ron Norris, the Sales Manager at IMC announced the purchase of an Amada Laser with a 5′ x 10′ shuttle table to increase IMC's precision sheet metal fabrication and engineering capabilities.  "Our research showed us that customers needed a wider range of Laser Services so we doubled our laser capacity with this purchase," said Ron Norris.  "The laser equipment has complimented our recent capacity upgrades in the punching area which has 3 Strippit punch machines.  Customers can have the continued confidence IMC will deliver their product on time and with their quality standards.
IMC ISO9001:2008 Certification – January 26, 2013
IMC is pleased to announce we have achieved ISO 9001 certification.
IMC is excited to announce that their second Customer Appreciation BBQ is scheduled for June 18, 2014! We'll have great food, tours, and fun prizes. We look forward to greeting and meeting all of our great customers!
Open House – 2012
To celebrate our move, IMC hosted an open-house and invited customers and vendors to tour our new larger facility, meet employees to learn more about what we do, and enjoy food made on barbeques that we helped build. Because of the overwhelming positive response, we intend to make it an annual event.
New Facility – January 2012
After a year of searching, negotiating, and the long process of city approval; IMC moved into it's own building in January 2012. While it was a long wait, it allowed us time to prepare for the move and the major machinery was moved in only a matter of days.
Our old facility was comprised of 28,000 sq ft split over two buildings in Wilsonville, OR. Our new facility is 73,000 sq ft under a single roof; with 20,000 sq ft sectioned off that we are saving for future expansion. By almost doubling our square footage, we were able to better organize our machinery to provide a more efficient flow for the shop.